At the east of Manhattan is the District of Brooklyn, also known as Kings County. To people who never leave Manhattan, each borough may seem like a foreign land, and it is, without a doubt. If Brooklyn were its own city, it would be the third most populous city in the country.
However, if you have not seen Brooklyn it is important that you do since it is definitely one of the greatest places to discover. It is home to iconic New York attractions such as Coney Island, the Brooklyn Bridge and Prospect Park, in addition to some of the best New York pizzas.
There are many things to do in Kings County, like visiting one of the best flea markets in Gotham, having brunch in Brooklyn or taking a Christmas lights in NYC Tour. From Gowanus to Williamsburg, be sure to add these stops in your itinerary.
Now, let us share with you some of our favorite things to do in Brooklyn…
1. Brooklyn Bridge
Sure, the Brooklyn Bridge serves a practical purpose for millions of people that may travel from lower Manhattan to Brooklyn, but it is also one of the most iconic structures in the city. You can walk and bike on it, but be careful, the crowds are serious! So, go early in the morning or late at night to avoid the hustle and bustle.
If you dare to do a tour in New York, you will have the option to walk across the Brooklyn Bridge and enjoy the panoramic view of Manhattan or Dumbo.
2. Brooklyn Bridge Park
This stretch of the revitalized industrial waterfront that runs from the Manhattan Bridge to the Brooklyn Bridge attracts kids and adults alike. Dotted with playground equipment, picnic and game meadows, local business concessions such as Ample Hills Creamery, Lizzmonade, and Fornino. The park also features sand volleyball, a full basketball court, kayaking, and swimming in the pop-up pool (equipped with changing rooms, a sandy beach and a tiki bar and grill) and roller skating. Spring highlights from this venue include the Ed Center with a scale model of the Brooklyn Bridge Park and the 250-gallon aquarium park filled with bugs from the East River and ping pong tables on the Pier 2.
3. Prospect Park
A walk through Prospect Park is an easy way to spend a memorable day. Designed by Frederick Law Olmsted after the completion of Central Park, Prospect Park features 90 acres of wide open fields for baseball and soccer, jogging trails (the loop is 3.35 miles), bike rides and horseback riding; summer concerts at the Prospect Park Bandshell; an all-season ice skating rink at the LeFrak Center; and several playgrounds. The park also features a zoo that houses goats, chickens, horses, alpacas, sheeps, a sea lion show, prairie dog burrows, stuffed meerkats, a duck pond, and a huge aviary. Just steps from the zoo is the magnificent 1912 Carousel Prospect Park, and one of the city's largest green markets is set up every Saturday at the north entrance to Grand Army Plaza.
4. Coney Island
From the turn of the century until World War II, Coney Island was considered the playground of the city. Years of neglect followed, but the arrival of the Luna Park amusement park restored the living nature of the area. Today, hundreds of thousands of people visit what has become one of the best beaches in New York, offering a variety of great things to do in the summer. From movie nights to concerts to the wild Mermaid Parade, there is always something for everyone.
5. Brooklyn Botanical Garden
Those looking for some peace and quiet would do well to spend a few hours in this green oasis. The garden, which is supported by two other gems of the neighborhood (the Brooklyn Museum and Prospect Park) was founded in 1910 and features thousands of types of flora, spread over 52 acres. Every spring, crowds descend on the space for the Sakura Matsuri Festival, during which more than 70 trees bloom along the Cherry Esplanade. But equally impressive are the serene spots like the Japanese Hill Garden and Pond, the first Japanese-inspired garden built in the US, and the Shakespearean Garden, filled with plants (like spring and crocuses) mentioned in the works of Bard.
6. Brooklyn Historical Society
Founded in 1863, the society is housed in a landmark four-story Queen Anne-style building that houses numerous permanent exhibits, including "It Happened in Brooklyn," highlighting local ties to pivotal moments in American history. The institution offers weekend and after school programs for children.
7. Brooklyn Heights
There are many great Brooklyn neighborhoods to explore on foot, in fact Williamsburg, Park Slope, and Cobble Hill are all solid options. But perhaps the most inspiring neighborhood to walk around is the oldest: Brooklyn Heights. It is on these tree-lined streets where a Revolutionary War battle was fought, and where many of the city's most notable writers lived: Truman Capote, Arthur Miller, Carson McCullers, Norman Mailer, and WEB DuBois, to name just a few.
The Brooklyn Heights Association offers guided tours of the interiors of many of the neighborhood's iconic buildings, but you can take your own walk, making sure to hit the Promenade, a mile-long walk that will put you face to face with the Statue of Liberty, the Brooklyn Bridge and a breathtaking view of the Manhattan skyline. This turns out to be a great location to make a Dyker Heights Christmas Lights Tour in New York since you will be able to appreciate the traditional spots brighter than usual.
8. Brooklyn Academy Of Music (BAM)
Featuring local and out-of-town businesses, BAM is one of New York's leading cultural institutions. The Howard Gilman Opera House, with its federal-style columns and carved marble, is a beautiful dance venue. In fact, the Mark Morris dance group usually performs there each spring.
The Harvey Theater of 1904 (651 Fulton St between Ashland and Rockwell Pls), formerly called Majestic, has presented the work of John Jasperse, Wally Cardona and Matthew Bourne. Each fall, BAM's Next Wave Festival highlights established and experimental dance groups; in the spring, there is a variety of African and modern dance and ballet.
9. Brooklyn Boardwalk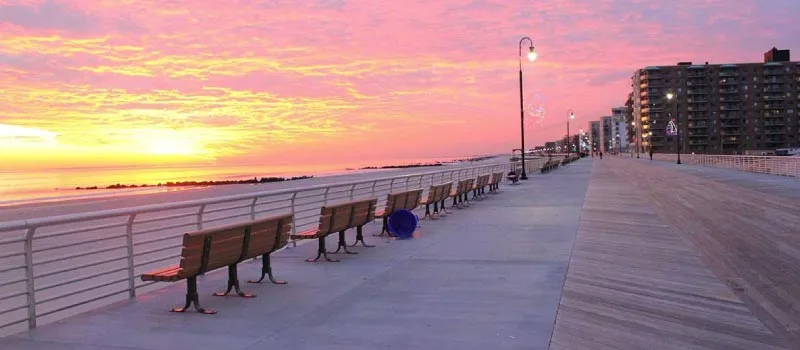 Are you looking for an ideal place to enjoy a panoramic view of everything the city has to offer? The Brooklyn Walk, a one-third-mile stretch along the East River, is one of the favorite destinations for residents, tourists, and couples looking to distinguish themselves from an unforgettable stretch of the New York City skyline. Stunning views of the Brooklyn Bridge and the Statue of Liberty are visible from here.
10. Brooklyn Brewery
Founded by Steven Hindy and Tom Potter, Brooklyn Brewery not only makes some of the best beers in the nation, but also pays tribute to its hometown with an unconditional dedication to the craft beer process brought to these shores by immigrants from Germany, Belgium and Ireland. Under the guidance of brewmaster Garrett Oliver, the team brews their signature Brooklyn Lager, along with approximately 50 different craft beers, including Brooklyn Greenmarket Wheat, Brooklyn Best Bitter, Brooklyn Summer Ale, and Brooklyn Local 1. Small batch tours of the brewery are offered from Monday to Thursday at 5 pm, and the brewery also organizes cooking classes and tastings.
11. DUMBO (Down Under Manhattan Bridge Overpass)
DUMBO, which stands for Down Under Manhattan Bridge Overpass, is packed with talent, and its galleries are fortunate to capture much of it. You can visit United Photo Industries, which features public installations and has a permanent exhibition space with a variety of photographs. Then take a look at the mixed media, street art, and sculpture displayed at Masters Projects, and all the reductive contemporary abstract art you love at Minus Space. AIRE, The Gallery (Artists in Residence), which opened in 1972 as the first cooperative women's gallery in the United States, presents shows, talks and lectures. In addition to the galleries, DUMBO is also home to many studios that host open studio weekend visits each year. Take a look at Sharp-Walentas and Smack Mellon.
12. Greenwood Cemetery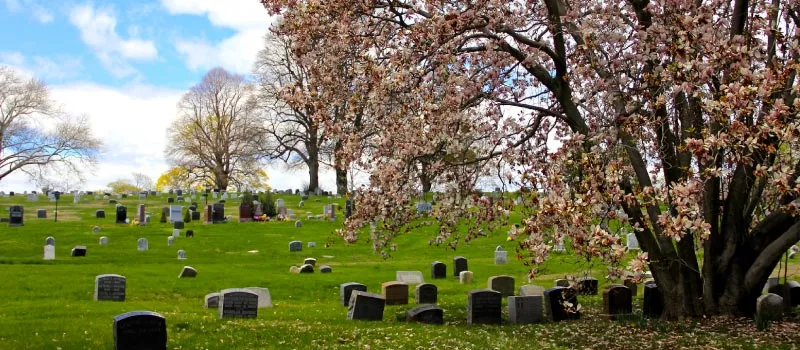 Yes, you have to visit a cemetery. This 478-acre National Historic Landmark located between Prospect and Sunset Parks was founded in 1838 and is New York City's answer to Paris's Père Lachaise. Legends like Jean-Michel Basquiat, Leonard Bernstein, Horace Greeley, and William "Boss" Tweed are buried there. The Green-Wood Historic Fund organizes a number of walking tours, concerts, book lectures, exhibits, and other educational activities, but you can take a self-guided walk or hop in a car to learn about the history of the cemetery and get a good view of the green parakeet monkeys that have been nesting there since the 1960s. With its hills, valleys, ponds and glacital trails, and one of the largest collections of statues and mausoleums from the 19th and 20th centuries, it feels unexpectedly festive.
13. Dyker Heights
During the Christmas season take the chance to experience one of the most festive experiences of the year, full of lights and snow. Take a New York Christmas Lights Tour in Dyker Heights and enjoy the last month of the year with love and surrounded by a holiday environment.