For all those who want to enjoy something beyond Niagara Falls, there is Clifton Hill, an area located on the Canadian side that has been called "The Street of Fun".
After taking a Niagara Falls one day tour from New York you will be able to cross the border and appreciate a little of what Clifton Hill has to offer as they ensure that it is an unforgettable experience, since it has excellent facilities, a variety of attractions, entertainment areas for children and adults, which also works throughout the year!
You'll find museums, casinos, a water park, theaters, hotels, restaurants, haunted houses, games, and shops, so any member of the family has an excuse to be bored.
But, due to the current health situation there are many attractions that remain closed, even so we assure you that in Clifton Hill you will find fun for day and night, since when the sun begins to hide the lights of the stores turn on giving shine and color everywhere.
Plans for everyone in Clifton Hill
People claim that Clifton Hill seeks to emulate the Las Vegas Strip, of course on a smaller scale but with a similar atmosphere, full of fun and lights, only in this case they also involve children among the entertainment offers.
If you dare to spend a day on this hill, below we share some of the plans that you can enjoy:
Niagara Skywheel
If you want to do something quiet from where you can appreciate the view, the Skywheel is the right attraction for you.
It carries comfortable air-conditioned cabins that rise to just over 50 meters high, it is the largest Ferris wheel in Canada and one of the most fun ways to see the natural wonders that link the United States to Canada.
From there you will be able to appreciate the majesty of the Niagara Falls in its maximum expression, you will get to see the American side, the Horseshoe Falls, the Niagara River and the parks; besides, you will be able to take the best pictures of the landscape in general.
The tour lasts 8 to 12 minutes, it is ideal during the winter and, personally, I suggest that you go up just as the sun begins to fall, as you will appreciate the panoramic view during the day, at sunset and at night.
Niagara Casino
It is a purely adult plan but it is worth mentioning.
The casino has 2 floors and 1,300 slot machines, some pennies and others for $ 5, in addition it has 30 tables of games (poker, Black Jack, Mississippi Stud and roulette). To top it off, it has 4 restaurants and on Friday and Saturday nights it offers live shows, where the party is 24/7.
Niagara Speedway
The largest kart track in North America is spread over a 1.5 hectare field; an attraction that combines the adrenaline characteristic of go karts with the experience of a roller coaster on a concrete track in a 4-story helical spiral shape.
Sometimes you can feel that you leave the track and fly over a cliff, but we assure you that it has excellent security measures.
The use of a mask is essential to be able to use the attraction.
Fallsview Water Park
It is a covered park of just over one hectare of expansion, it has 16 slides (some of them 6 floors tall), wave pool, hot springs area, jacuzzi for adults, children's area, beach and an open terrace with pool. The most wonderful thing about this place is that you can continue to have fun no matter if it is winter outside, so the game never ends, except on the terrace.
One of the favorite games for children and adults is the 1000-gallon dump bucket, where people pile up to receive a heavy fall of water on their heads.
Ripley Museum – Believe It Or Not
This museum is perfect for fans of the strange and incredible, hence its name. Ripley, who is the founder of this museum and an avid artist, took a trip around the world collecting unusual objects that carry a story behind them.
There are more than 12 themed rooms, with more than 500 really strange artifacts that steal all the attention, among them you will find real reduced human heads, photographs of daredevils who have defied death, screens that offer you unique experiences and many other pieces that will leave you with your mouth open.
Kids love it and you will never be disappointed.
Rock Legends Wax Museum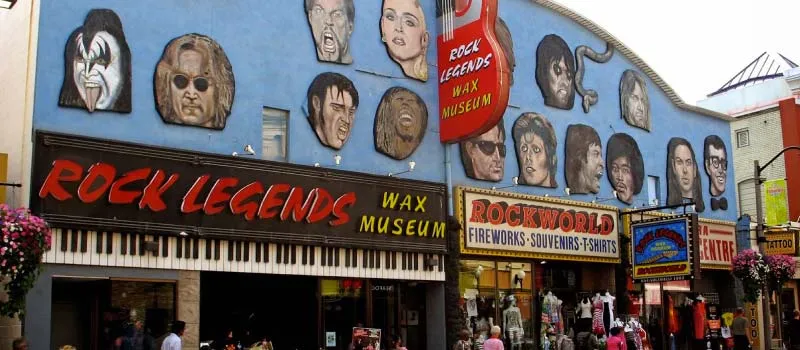 Who does not love visiting a wax museum? Let's be honest, it's the easiest way to get up close and personal with your favorite artists, life-size, but in this case we focus only on famous musicians and rock pioneers.
In the museum you will find classical and modern artists who have managed to put their name high in the music industry, such as Taylor Swift. Do not miss the opportunity to "share" together with your idols.
Niagara Zipline
If you are a bit more fierce and love heights mixed with adrenaline, the Zipline is an excellent option. This attraction is divided into two parts, the first is the MistRider zip line that rises from the Grand View Marketplace to Niagara Falls, has 4 speed lines and descends at 670 meters.
The second option is Wildplay's Whirlpool Adventure Course that has obstacles and ziplines suspended in the middle of nature. As you progress, the difficulty of the game increases.
To suit all audiences there are different "versions", a special one for children, a classic version and an extreme version.
Children are accepted from the age of 7, but these (from 7 to 13) must be kept under the supervision of an adult.
Movieland Wax Museum
Take a photo with the most famous stars in music, film, television and politics. Well, it's been said that a walk through Movieland is a walk through entertainment history.
Take a selfie with Johnny Deep, Terminator or Indiana Jones and be part of your favorite movies like Ironman or Jumanji.
As you leave the museum you will arrive at the Fun Factory gift shop where you can create a replica piece of your hands, in wax, as a unique souvenir at the Wax Hand Emporium. And, only if you dare, you can enter into the House of Horrors, which boasts "one of the most terrifying chambers of terror you have ever experienced."
Nightmares Fear Factory
It doesn't matter if it is not Halloween, you can always take a big scary scream in one of the favorite plans for many in Clifton Hill. Nightmares Fear Factory offers a terrifying experience that you can't miss after a NYC to Niagara Falls tour.
This attraction has been scaring all types of public for 30 years, has left scars in more than one by the desire to flee and has provoked unique emotions since walking through the front door. Do you think you will be able to overcome this experience? Almost 150,000 people have already decided to leave without completing the journey.
Strike Rock N´ Bowl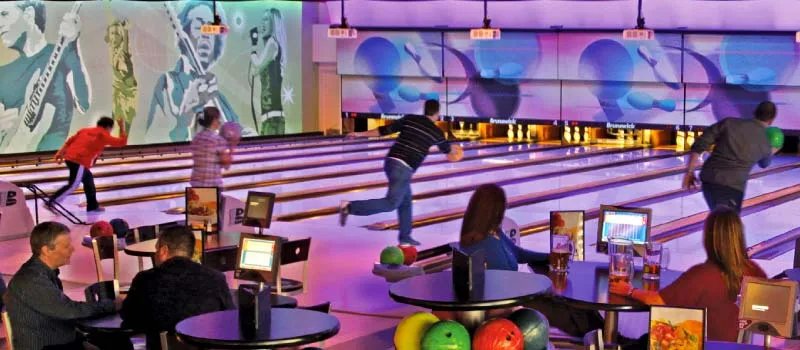 If you are looking for something a little calmer, go ahead and visit this bowling alley, with 14 lines, which at night becomes one of the most popular places. Why? Because if you get tired of knocking down pins, or if bowling is just not your thing, the complex has a high-tech game room and a food court that will allow you to continue with the fun.
Dinosaur Adventure Golf
If you travel with children, Dinosaur Adventure Golf is the last among entertainment preferences, since in the same place you play mini golf and share with huge dinosaurs in a prehistoric world full of vegetation.
In addition, it is the largest mini-golf attraction in Canada as it has two fields with 18-holes each, 3 decorative ponds and an active volcano from which steam rises at a height of 15 meters, which by the way is the last station of the journey.
In the complex there are more than 50 species of VERY realistic looking dinosaurs that measure almost 10 meters in height, ideal to make you feel that you are playing after having traveled a few hundred million years in time.
Greg Frewin Theater
To be able to participate in an event worthy of Las Vegas, you must attend the magic show of Greg Frewin, one of the most prestigious magicians in the world, winner of the most important magic competitions and participant in the best stages such as Caesar's Palace, Tropicana and The Flamingo Hilton in Las Vegas.
This show lasts 90 minutes and you can add lunch or dinner to complete the experience.
Zombie Attack
This is an opportunity to enjoy an interactive 36-seat XD theater in which you will experience apocalyptic emotions. There you can fight for your life in a zombie attack while you try to save the world by challenging your friends as well.
In this attraction you must destroy as many zombies as you can, but you must destroy more than your opponents, in this way there is a competitive game to obtain the highest score but without being defeated by the hungry undead.
"Hands down the best attraction in the area! Wow, I'm amazed at how much fun that was! Clearly a hidden gem amongst the lights and bustle of Clifton Hill. It is definitely worth a look and I will return to Niagara Falls for another immersive experience." – Local RSH DVP guide.
In short, we assure you that in Clifton Hill you will have a mega fun day, with no options to get bored. In fact there you'll find everything, in addition to the attractions already mentioned there are a variety of restaurants and hotels that will satisfy all your needs.
Keep in mind that as a result of COVID there are many attractions that are closed or you may use a mask to access. If you travel during the winter season, we recommend you to wear comfortable but warm clothing and check the opening and closing times of the different attractions.
Take a Trip to Niagara Falls from NYC and immerse yourself in a new adventure, full of water, nature and lots of fun guaranteed. If you require more information about this plan, contact us, we will gladly assist you.