New York City, known for its dazzling lights and endless attractions, may seem like an expensive destination. However, October offers a unique opportunity to experience the city without breaking the bank. In this article, we'll guide you on how to enjoy a cost-free October in New York.
1. Central Park's Autumn Splendor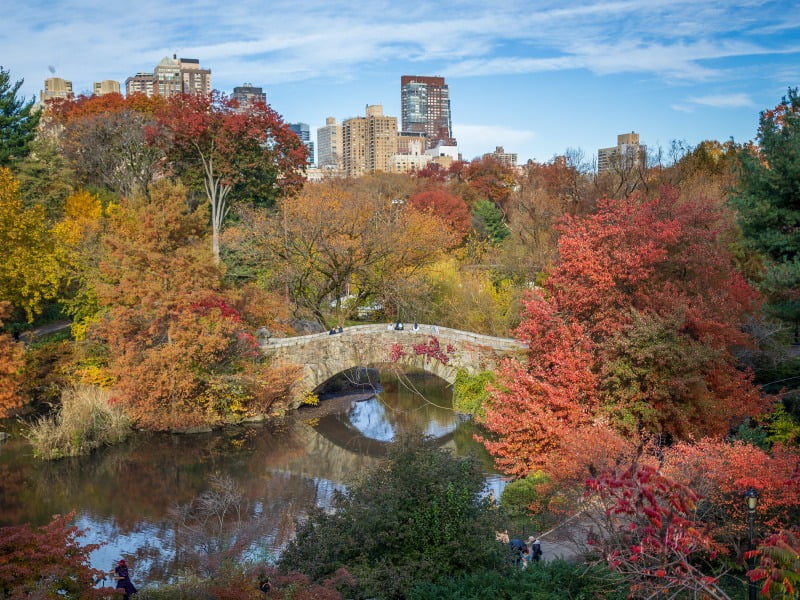 Central Park is a treasure trove of beauty and activities, especially in October. As the leaves change color, the park transforms into a picturesque wonderland. Stroll along its winding paths, enjoy a picnic by the iconic Bethesda Terrace, and relish the beauty of nature's autumn palette—all for free.
2. Cultural Institutions Offering Free Admission
Many of New York City's renowned cultural institutions offer free admission on specific days or during certain hours. Some of these include:
The Museum of Modern Art (MoMA): MoMA offers free admission every Friday evening from 5:30 PM to 9:00 PM. Explore its extensive collection of modern and contemporary art without spending a dime.
The Whitney Museum of American Art: Visit the Whitney on Friday evenings between 7:00 PM and 10:00 PM for pay-what-you-wish admission. Explore contemporary American art and enjoy stunning views from the museum's outdoor terraces.
The Bronx Museum of the Arts: Enjoy free admission year-round at the Bronx Museum. Discover contemporary art, vibrant exhibitions, and community programs in this cultural hub.
The Museum of the City of New York: Dive into the city's history and culture at this museum, which offers free admission every Sunday.
3. Staten Island Ferry: A Scenic Cruise
Take a ride on the Staten Island Ferry, which offers spectacular views of the Statue of Liberty, Ellis Island, and the Manhattan skyline—all for free! The ferry operates 24/7, so you can enjoy this scenic cruise at any time of day.
4. Free Walking Tours
Explore the city's neighborhoods and landmarks with free walking tours offered by local organizations and volunteers. From historical tours of Lower Manhattan to art-focused tours of Chelsea's galleries, these guided walks provide insights into the city's rich history and culture.
5. Parks and Green Spaces
In addition to Central Park, New York City boasts numerous parks and green spaces that are perfect for enjoying a free day out. Prospect Park in Brooklyn, Flushing Meadows-Corona Park in Queens, and the High Line in Manhattan are just a few examples. Pack a picnic, take a leisurely walk, or simply relax in these scenic settings.
6. Street Performances and Markets
October in New York City is a prime time for street performers and outdoor markets. Stroll through Union Square Greenmarket, where local vendors offer fresh produce, artisanal goods, and more. Enjoy street performances by talented musicians and artists throughout the city's neighborhoods.
7. Free Events and Festivals
Keep an eye out for free events and festivals happening throughout October. From cultural celebrations to outdoor concerts, there's always something happening in the city. Check event listings and local publications for up-to-date information.
8. Public Art Installations
New York City is known for its public art installations. Explore the city's streets and parks to discover temporary and permanent art pieces that are accessible to all. From sculptures to murals, these artworks add a creative touch to the urban landscape.
With a little planning and an adventurous spirit, you can savor the delights of New York City in October without spending a dime. Enjoy the city's natural beauty, cultural offerings, and vibrant atmosphere while keeping your wallet happily tucked away. October is the perfect time to experience the Big Apple's charm without the big price tag.