Finding an amazing destination to spend Christmas and New Year's Eve is something that hundreds of families do each year. Their purpose is to get out of the routine and fall in love with the typical celebrations of each country they visit, and the United States is no exception.
How many times have we seen in Hollywood Christmas movies that there are extravagant decorations everywhere? Well, some of those striking decorations can be found in New York; precisely this city has one of the most decorated and devoted neighborhoods to these festivities in the entire country, Dyker Heights.
If you spend Christmas in the Big Apple, we highly recommend you to take a NYC christmas lights tour, so you will be able to know details of the city that otherwise you will surely overlook. For you not to miss anything, below we share a few details that you should keep in mind about this amazing neighborhood.
What Is Dyker Heights About?
Dyker Heights is a neighborhood located in the south west area of ​​Brooklyn, very close to Bensonhurst and Bay Ridge. This is an Italian-American neighborhood, 100% residential, therefore it tends to be very quiet, away from the hustle and bustle that characterizes the Big City.
Once you start to walk through its streets, you will find gardens and houses decorated from corner to corner, lit by thousands and thousands of small bright lights. Personally, it seems to be a dream place, as some of the owners put gigantic decorations and put together a theatrical stage that captivates.
The tradition began in 1986 when Lucy Spata, owner of one of the places, decided to decorate it from floor to ceiling, something that was not well accepted by the neighbors at that time because the amount of lights affected them at night, however, through the years, those same neighbors were attracted by the Christmas spirit and began to join the initiative to the point of promoting competitions among themselves. Each year the decorations get more flashy and voluminous, so it certainly does cost a few thousand dollars paying the bills, but it's worth it.
Not all homeowners crowd their gardens with lights or inflatables, but those who do tend to hire companies that are professionally responsible for the decorations, paying between $ 2,000 and $ 5,000 for each. The goal is to have the most striking house, the brighter and with more viewers.
In those places where they have paid for the decoration you can find an advertising poster of the company in charge, so, at the end of the day everyone wins.
When Do They Start Decorating?
The lighting formally begins on Thanksgiving, the last thursday of november; however mid-December is the best time to visit Dyker Heights until the end of the year or the first days of January. You must know that the best lighting brights especially on weekends.
As they are family homes, they turn off the lights at around 9:00 pm, therefore the ideal is to arrive at dusk to be able to cover more land. A 3 or 4 hour tour is perfect for walking through the neighborhood streets.
To plan your trip well, we recommend you to check the official Facebook page of the "event" ( Dyker Heights Christmas Lights ), so you will be absolutely sure about the dates.
How To Get To Dyker Heights?
There are several ways to do the tour, you can hire a New York Christmas Lights Tour or do it on your own, the first option allows you to learn more about the history of the place and the most amazing houses in the neighborhood without worrying about long walks or transportation, but the second option allows you to go on your own and at your own pace.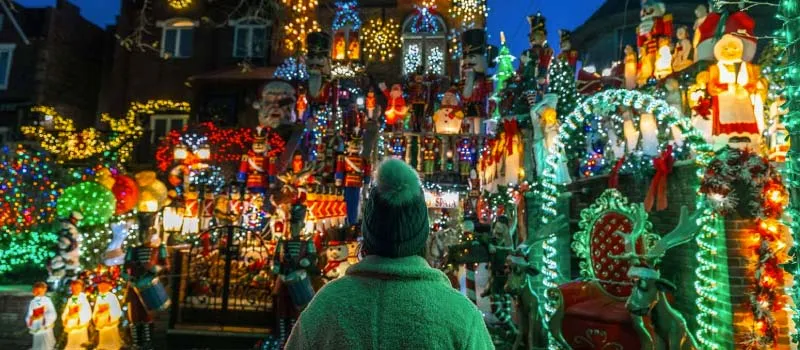 If you decide to go on your own you must get to Brooklyn by subway to Bay Ridge on R Line there you get off at 86th St., or you can also get to Bensonhurst on D Line at the 79th St. station, the route from Manhattan takes about 40 minutes. From any of these stations you must walk almost 20 minutes, 1 kilometer and a half, to get to Dyker Heights. As soon as you see the lights, you will know that you have reached your destination.
Now, some tips for you to keep in mind:
In December New York tends to be very cold, therefore it is ideal that you wear appropriate clothes for the weather, don´t forget to wear gloves, a hat and a scarf.
Dyker Heights is a residential sector so you will not find cafes or shops nearby, our recommendation is that once you get to a metro station buy drinks or snacks for the road. It is also important that you take advantage to go to the bathroom since there will be no place later.
If you decide to book a christmas lights tour in NYC do it in advance, at once you can take the opportunity to take another tour through New York and thus know the other destinations that the rest of the boroughs have to offer.
In December night falls at 4:30 pm, keep that in mind when preparing your trip.
Include in your agenda a visit to the most famous houses in the neighborhood, in fact one is opposite the other. The first is Lucy Spata's house located at 1152 84th Street, at the entrance it has dozens of lead soldiers, snowmen and angels surrounded by hundreds of lights. In front of it, at 1145 on the same street, you will find the Polizzotto house that has a gigantic Santa at the entrance accompanied by a couple of huge lead soldiers.
This is a plan that you cannot miss if you pass through the Big Apple during the Christmas season, whether you do a New York Christmas Lights Tour or if you tour the city on your own, you will have an incredible experience. Pack your bags and let's go!