As soon as you stand on the streets of the Big Apple you will see a place full of design, creativity and fashion, especially in Manhattan. In fact, by having a day or night tour in New York, you will have the opportunity to see the magic around NYC and meet its most popular destinations, and then you should take the time to visit a few stores that will capture your full attention. It doesn't matter if you don't visit the stores with the intention of buying; just seeing, tasting and enjoying so much creativity will fill you .
Most of the time, when you hear about "stores to visit in New York'' you may think about fashion, but actually there is so much variety in the rest of the options that the technology, food and jewelry stores are also incredibly captivating.
Here we will share a few places that you will not be able to miss in the Big Apple. In case you need help for a quick location, consult with our guides who carry out the tours in New York, they are always willing to provide you the best possible advice.
That said, let's start with our shopping tour of the best public establishments to go Shopping in the Big Apple.
If your plan is to go shopping in the city and enjoy the sales, it is ideal that you schedule the dates close to the most special celebrations in the country as Thanksgiving, Christmas, New Year's Eve and even Halloween. But, you may know that the most anticipated date, by visitors and locals, is the famous Black Friday when prices fall exorbitantly, it is celebrated on the last Friday of November, although sometimes it usually lasts throughout the weekend. In this case, the best places to shop in NYC are:
1. Macy's
Considered the largest department store in the world, with 6 floors waiting for you, Macy's offers all kinds of products at very affordable prices, making it one of the most visited stores by residents and tourists. There you will find all kinds of accessories, clothing, footwear, makeup and jewelry, for both men and women, it also allows wholesale or retail purchases.
2. Burlington Coat Factory
It is a store that offers great temptations to buyers, since there are designer products at very low prices, there are even those who think that instead of making a typical purchase what they are doing is an investment, since the prices of the available products can turn out to be really over the top compared to other stores.
3. Century 21
Also known as "the best kept secret in town", this department store has designer items at great prices, all authentic and original products. Unlike the previous stores, in Century 21 you may not find the same discounts but the variety of products is much greater, however they are not as affordable prices although if you really want an original product and a little more comfortable for your pocket, do not hesitate to visit it, for example you can find a $ 7,000 dollars coat on $ 1,500 dollars.
4. Forever 21
Currently it is a store that can be found in different countries of the world, however, we must keep in mind, and be realistic, that the merchandise displayed in the USA is the trend of the moment, so surely there will be products that will take time to arrive. to other countries or they may never do. Forever 21 has several stores around the city, but the one that attracts the most is the one in Times Square, it is so flashy that the service runs until 2:00 am. Without a doubt one of the best stores that you should visit if you are in New York.
5. Woodbury Common Premium Outlet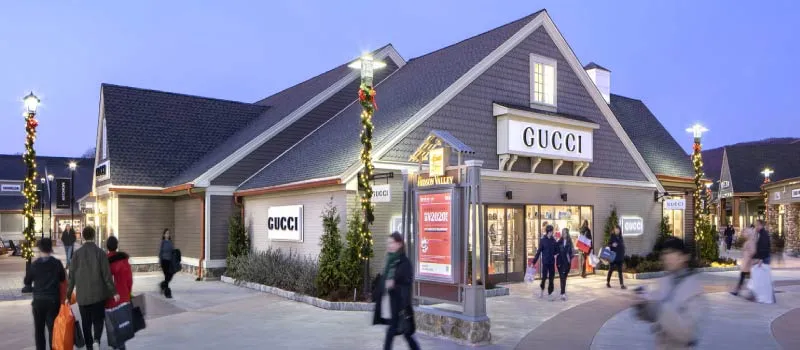 It is a shopping center that exhibits stores owned by great designers and fashion houses such as Louis Vuitton, Prada, Gucci, Chanel, among others. It is so big that we recommend you to dedicate a whole day to go through it all, although if you prefer you can have a clear objective and go directly for it, so you can make the most of the rest of your day.
Actually in New York you can find a special store for almost every known brand, like Abercrombie & Fitch, Hollister Co, GAP, Levi's or Victoria's Secret. But, if you want to visit a store just for seeing its decoration or to see what type of products they offer, we recommend:
6. The NBA Store
Whether you're a basketball fan or just curious, the NBA Store is dedicated to offering tribute to this legendary sport. Regardless of which team you are a fan of, there you will find clothing from the Knicks or the Chicago Bulls, uniforms, accessories, souvenirs and other details that will catch you. We think that probably you will get away with at least one purchase from this place.
7. Tiffany's
It is a jewelry store that became very famous a few years ago when the actress Audrey Hepburn wanted to have breakfast surrounded by her diamonds. Their prices are from another world but you can still get in and take a look at their pieces of art carved in gold and diamonds. Although if your budget is not enough to take one of their jewels you can surely have a coffee surrounded by them in The Blue Box Café restaurant, located on the fourth floor of the store, the value of the breakfast is almost $ 30 dollars.
8. B & H Photo and Video
It is an ideal place for photography and video fans. The store is recognized for its quality of service (100% personalized) but also for the variety and innovation of their products.
9. M & M's
It does not matter if you are not a fan of sweets, at M & M's you can have a colorful and chocolaty experience, because you can taste each of its many flavors passing from color to color. Finding the store is very simple, its facade has a giant and colorful screen that immediately will catch your attention.
10. The Disney Store
The Disney store is kind of a time machine thanks to the mythical representation of all of its films, even leaving aside the fairy tale princesses and putting up all kinds of products about Star Wars or Marvel superheroes.
11. The Lego Store
Since 1932 Lego has fascinated young and old people with its small pieces and its great brick creations, in fact, in the Times Square Lego Store there is an exact replica of Rockefeller Center. Although this store is not very big, yet it is ideal to find spectacular souvenirs.
12. The Housing Work Bookstore Café
The Housing Work has an old factory decoration that makes something captivating about this bookstore, where besides reading a book you can sit down and drink a coffee comfortably. Among its library you can find a very wide collection of books, sorted by genre, publishers and writers.
13. The HBO Shop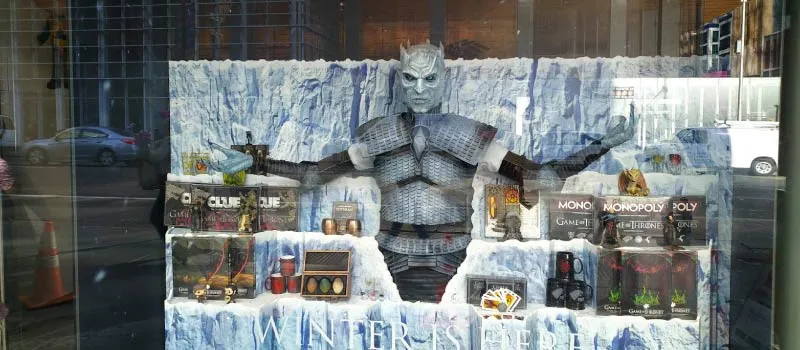 The HBO store is a complete sensation thanks to the massive and crazy obsession we have for TV series; an obsession in which HBO has been highly involved thanks to its great productions such as The Sopranos, Sex & the City, Chernobyl or, the acclaimed, Game of Thrones. In this store you can find all kinds of accessories related to your favorite TV series.
14. The Nintendo Store
The official Nintendo store, located in Rockefeller Center, has about 1,000 square meters dedicated to entertainment and video games, where you will find everything from clothing and accessories to the latest in video games and exclusive brand hardware. In addition, they regularly host tournaments, demos and launches of their new products.
Depending on your shopping habits, in one or two days you can visit all these stores. All of them are an interesting option even if you are just checking out the place or if you want to be surprised by the impressive offers. Enjoy your tour around New York at night and get to know the most outstanding places in the city joined by expert guides.