If you are about to spend a vacation in "the big apple" during the winter and you have been wondering about what are the best winter plans in New York?, do not stress. Low temperatures are likely to make you doubt about your trip and make you believe that the cold will not allow you to enjoy the pleasures of the city, but let us tell you that the Big Apple is a wonderful destination at any time of the year; regardless of how cold or hot it is, the magic of the city remains and the activities are adjusted according to the weather.
Once you take a New York Christmas Lights Tour, you will notice that during winter there is still a lot to do. However, to help you fight your fear of low temperatures, below we will share you a guide to enjoy New York in winter without letting yourself be overwhelmed by the cold.
Winter in New York, weather and plans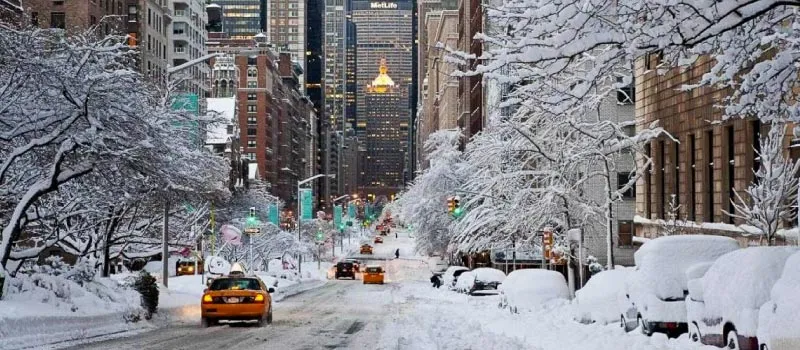 It is certainly very cold, we are not going to fool you. Especially in the months of January and February the temperatures are the lowest of the year and there is a freezing wind that makes your cheeks go numb. But, "to bad weather, good face" , wear the right clothes and try to enter a shop or museum from time to time to take advantage of a little heating.
If the cold is definitely not your thing, but you still have to make your trip, try to find some interior plans – so that the weather does not make you run – or take tours through the city aboard a heated vehicle, that way you could meet NYC while you travel around comfortably and joined by expert guides.
If you need some more precise data, winter begins in mid-December and ends in mid-March, these are some details:
In December the maximum temperature is 44,6 °F and the minimum is 32 °F.
In January the maximum temperature is 39 °F and the minimum is 26 °F, although sometimes it can reach 23 °F.
In February the maximum temperature is 43 °F and the minimum is 28 °F.
In March the maximum temperature is 48 °F and the minimum is 33,8 °F.
And what about the snow?
In the movies we have been led to believe that throughout the Christmas season and the winter months it snows non-stop, but, we regret to tell you, this is not true. It only snows for a few days of the year and it is not enough to bring the city to a standstill, as they already have everything organized to clean the streets and continue with the normal routine of New Yorkers.
If you can enjoy a snowy white landscape, take advantage of it while you can. Seeing the snow fall is something magical, incomparable and even romantic, but after a few hours it will melt down and turn into gray water pools, something uninteresting.
What to wear during winter in New York?
As we have been mentioning, the temperature drops to such a level that it is necessary to wear special clothing. Keep in mind that sometimes there will be sunny days (about 41 °F) and others with winds that reach 23 °f, so you must be ready for anything.
In addition, whether you take a tour in New York or do tours at your own pace, as a tourist it is obvious that you will spend more time on the streets than the residents of the city, so, in addition to the appropriate clothing, you have to carry a much more complete "kit".
These are our recommendations:
Coat / Jacket / Jersey: It is the key to your trip; If you can, pack 2 or 3 in your suitcase since, on occasions, they may be damp after using them, besides you will not appear with the same look in all the photos. This will be the most important garment in your wardrobe and, therefore, it must be the best quality so that you do not freeze. It is ideal that it is long and with a hood (cap) to cover your head during a blizzard.
To cover the upper part of your body, it is ideal that you wear two garments at the same time, initially a long-sleeved shirt and, in addition, a thermal coat. It is important since the vast majority of commercial premises, shops, museums and closed establishments will have high heating levels, so you will surely have to take off your coat or else you will sweat madly.
Pants: You can wear cotton socks or pants under your jeans or use thermal and thick pants. You make that decision according to your resistance to cold and according to the plans you have for each day, since if you are going to be walking down the street all day you should keep your legs well covered to avoid suffering from joint pain.
There are those who prefer to wear long coats and cane boots to avoid wearing multiple layers of clothing on the legs.
Another recommendation is to choose dark colored clothes, as there are many puddles of dirty water that can fall on your clothes and ruin your look, so you can hide from possible accidents.
Footwear: Shoes are also very important during winter; It is essential to wear high boots (that cover the ankle) and thick enough to keep the feet warm. It is also necessary that they are waterproof or, at least, that they resist water so that you can walk through the snow without problem.
When buying special winter footwear, keep in mind that the sole is thick and embossed, so that it provides grip and thus avoid slipping on the frozen floor.
Accessories: Hats, scarves, gloves and socks are necessary, you must keep your ears, neck, hands and feet covered so that the body temperature is stable.
Winter plans in New York
Until now you know what to expect and you have your suitcase ready, then it is time to find out the plans available during this time of year and… Enjoy!
Keep in mind that due to Covid 19, event hours vary and there are typical New York plans that are closed. Before visiting any place, make sure to check their website or social networks beforehand to be aware of possible changes.
Ice skating in New York City
Without a doubt, it is the plan that stands out the most during the winter season and is the most awaited of the year. Do you dare to try it?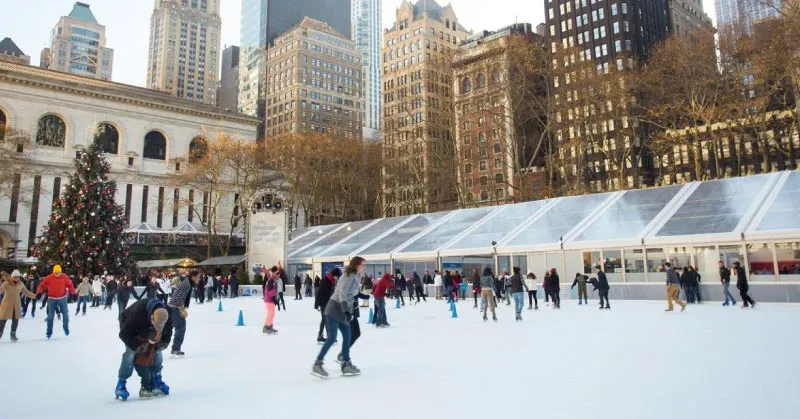 Gliding between huge buildings is a unique and even romantic plan, in fact there are couples who take advantage of the beauty of the landscape to declare eternal love, it is sure to be unforgettable. But, if you are only interested in skating, these are the most recognized rinks in the city:
Rockefeller Center
It is one of the most popular tracks since it has a special style and a very Christmas touch. Open from mid-November to mid-January, from 9 am to midnight, the session is 50 minutes and costs between $ 25 and $ 35, but you must also rent the skates for $ 15.
Bryant Park
Very close to Times Square is the Bryant Park rink, it is larger than the Rockefeller Center and, best of all, the entrance is FREE, you only have to pay for the rental of the skates, which can be from $ 21 to $ 31, the price depends on the date. It opens from October 30 until the last week of February, from 8 am to 11 pm.
Central Park
On the east side of Central Park is the Wollman Rink track, considered one of the best tracks in the world. It opens from mid-October to mid-April, hours depend on the day of the week.
Monday and Tuesday: 10 am to 2:30 pm
Wednesday and Thursday: 10 am to 10 pm
Friday and Saturday: 10 am to 11 pm
Sundays: 10 am to 9 pm
Another option is the Lasker Rink track, at the north of Central Park. It is open from October to March and admission costs about $ 9 for adults and $ 5 for children, the rental of skates costs $ 8.
Visit New York museums in winter
Activities in closed and heated areas are essential during the winter, take this opportunity to visit the city's museums, both the best known and those that are a little less popular. You'll love it!
Vintage Subway
Typically the New York subway isn't flashy or glamorous, but in December they bring out vintage trains on some of the routes that take you on a journey back in time on your way to your destinations.
Half price attractions
How about visiting the Empire State, the Statue of Liberty or the MoMa for less? A lot of us love the discounts, so between January and February New York provides two weeks to enjoy great attractions at half price, 2X1. Enter the Must See Week website and find incredible offers, sales start from the first week of January.
Low cost restaurants
Winter is the low season and restaurants require incentives for locals and tourists to visit them. In the last week of January and the first of February, Restaurant Week is celebrated in which several restaurants in the city offer their menu at a lower price than usual, making this the perfect opportunity to try the best local food without spending more. Check the event website for participating restaurants, prices and dates.
Celebration of Saint Patrick's Day
On March 17 in New York is celebrated St. Patrick 's Day with a big parade through the 5th Avenue, filling bagpipes, beer, shamrocks and green everywhere to honor their Irish ancestry.
Shopping plan in winter
It does not hurt to visit a shopping center and do a couple of purchases, or at least see the windows of the best stores in the city. It is a perfect time to catch your breath and feel a little warm. To see some of the best places to go shopping, we share a list of some of the stores you must visit in New York:
Macy´s
Burlington Coat Factory
Century 21
Forever 21
Woodbury Common Premium Outlet
Tiffany´s
The NBA Store
B&H Photo and Video
M&M´s
The Disney Store
The LEGO Store
The Nintendo Store
Christmas Tour
We cannot leave New York without a NYC christmas lights tour since this is one of the most important celebrations of the year. The lights and the ornaments take over the streets from November to January, so the stores and neighborhoods are full of them and it is marvelous. In fact, during your visit we recommend you to take a Dyker Heights Christmas Lights Tour, a neighborhood in Brooklyn where you will see some of the most beautiful houses in the city, most of them full – inside and out – with abundant Christmas decoration.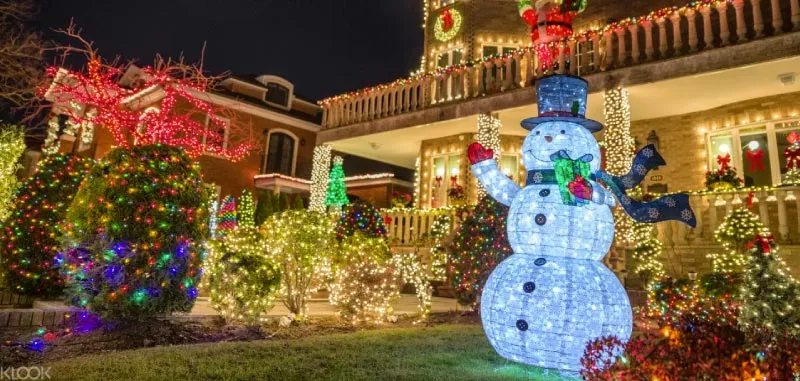 If you are into Santa's mood, take one of the christmas lights tour of Dyker Heights and you won't regret it. In fact, we dare you to share your experience and pictures with us.
We have reached the end! We hope that this guide will be of great use for your trip, you just have to pack your suitcase and take over the city.