Despite the fact that much of New York is absorbed by its architecture and the running of its residents, the city has places that help you forget the tumults and daily worries while enjoying a bit of silence and nature. If you are about to spend some Trip from New York, we invite you to visit one of these parks so that you can learn about the most practical way that New Yorkers have to abandon their routine and take time to relax.
It is well known that as soon as we mention the parks of New York, the first thing that comes to our minds is Central Park, and with good reason, since it is an icon of the city and one of its largest parks. However NYC also counts with smaller and more intimate parks that fulfill a great recreational function in areas further away from the center.
So, if you decide to take a tour around New York, take the opportunity to stop for a while at one of these natural stations and enjoy as the locals do, with a little music, food and appreciating the contrast that the trees make against the imposing buildings.
To cheer you up, here we share the 6 best parks in the Big Apple and its surroundings, join us on this tour.
1. Central Park
Obviously Central Park is the first option and a must when you spend a few days in this concrete jungle. Whether taking a tour of contrasts or an excursion through the city, you will surely come across one of the entrances to the largest green lung in Manhattan. Its 840 acres captivate almost 30 million visitors every year, as the place has different settings, waterfalls, lakes and trails that have been the main characters of dozens of films, series and photographic sessions.
The calm that characterizes Central Park makes both locals and tourists come together in there for all kinds of sports and recreational activities that disconnect them from the chaos that is lived a few blocks away.
So that you can enjoy the park 100%, we recommend planning a whole day to explore it calmly or, if you prefer, visit the most important points in several days throughout your trip.
Besides, during christmas it is a must do, since the place turns romantic, perfect and full of fun. Remember that, during that season, you could also take a New York Christmas Lights Tour in Dyker Heights.
2. The High Line Park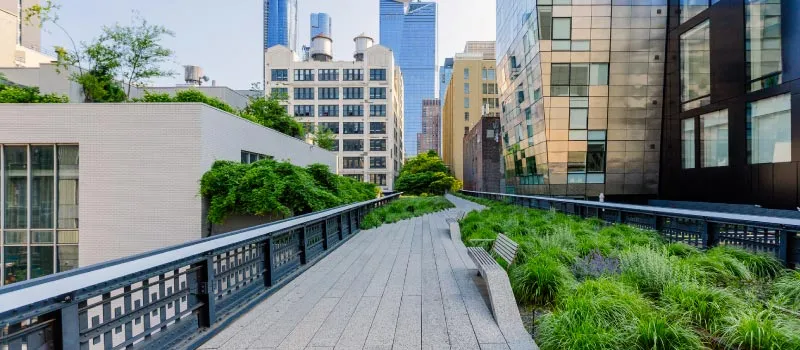 This park has gained much recognition for its design as it is an urban linear park, with an architectural style that highlights the value of creating new and fresh public spaces in the city. The park has gardens, an urban theater, picnic areas, food areas and spaces to rest, but what is most striking is that it is built entirely of wood.
Previously, The High Line was a railroad that stopped being used since 1980, so in 2009 they decided to restore 2.3 kilometers to create one of the best urban linear parks in New York that continues to grow.
If you are wondering what activities you can do in The High Line Park, let us tell you that you can take walks over NYC (literally), perceive the architectural contrasts of the city and admire the modern buildings in front of the old industrial factories, such as the historic Chelsea building Market (1890) where the Nabisco factory was located and where the famous Oreo cookie was invented.
At night you can take a break to see the stars with high-powered telescopes in one of the Night Star Observation Sessions, held every Tuesday evening and presented by experts from the Association of Amateur Astronomers, who are in charge of installing telescopes between West 15th and West 16th streets. The night is usually the perfect time to visit the park and tends to be less crowded than during the day.
You will surely be able to see the park and tour it as soon as you take one of the excursions through New York .
Hours: Every day from 7:00 am to 10:00 pm
Admission: Free
Address: West of Manhattan, between Gansevoort Street and 34th Street.
How to get to High Line Park:
Bus: lines M11, M13, M23 and M34.
Subway: Nearby 8th Ave – 14th St Station, lines A, C, E and L
3. Riverside Park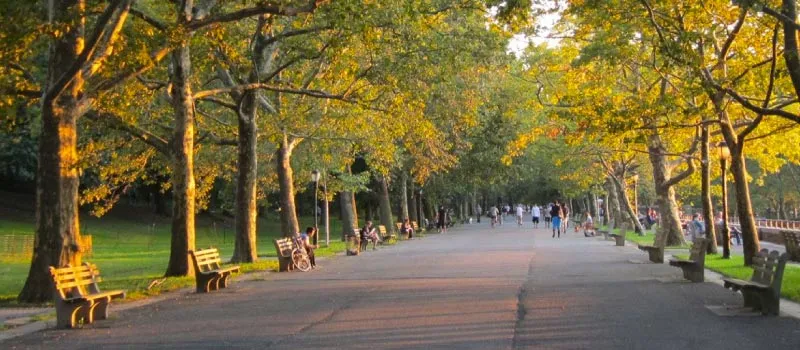 Located along the Hudson River, Riverside Park is four miles long and stretches from 72nd Street to 158th Street. Not only does the park have a great view of the river, it is also a great place to visit as a family since it is a perfect place to take long walks, bike rides or rollerblades. Its facilities include sports courts, a grass field, a pet area and a skate park, as well as a port located on 79th Street.
The park has been considered the "home of summer festivals" as each year the New York Department of Parks organizes the Summer on the Hudson event that includes concerts for children, outdoor movie screenings, public art, fitness workshops and loads of performances and activities that allow you to experience the contrasts of New York first-hand.
In addition, there are monuments and memorials of great importance such as:
Eleanor Roosevelt Monument
Soldiers and sailors Monument
Joan of Arc statue
A reproduction of the Halicarnassus Mausoleum – Also tomb of President Ulysses Grant
Warsaw Ghetto Monument – To remember those who died during WWII.
If you are a nature lover, you will find a Bird Sanctuary that has robust trees with particular characteristics that attract birds and butterflies, in fact, throughout your walk you will be able to hear them sing.
If you prefer water sports, there is a sports area over 79th Street where you can rent a kayak or enjoy with your family the more than 15 playgrounds that include the children's favorite, the Hippo Playground.
This place is also fantastic if you want to take a New York Skyline at Night Tour, from there you can see how Manhattan shines during the night. Marvellous!
Hours: Open every day between 6 am and 1 am. Sports venues starting at 8 am
Admission: Free
Address: Between 72nd Street and 158th Street
How to get to Riverside Park:
Bus: lines M11, M13, M23 and M34.
Subway: The nearby 8th Ave – 14th St Station, lines A, C, E and L.
4. Brooklyn Bridge Park
Another of the most visited parks in New York is the Brooklyn Bridge Park, which – with more than 70 acres – stretches along the East River while offering one of the best panoramic views of the city, especially of the New York Harbor, the Downtown Manhattan and the Brooklyn Bridge.
When you take a tour in New York you will appreciate this place, because to get there you just have to cross the Brooklyn Bridge, heading towards Brooklyn, and go down the stairs at the end of the bridge.
The park consists of multiple recreational activities, for adults and children, always taking care of sustainability and environmental exploration. Whatever your passion is – athletics, swimming, fishing, rock climbing, roller skating or kayaking – you can do it while enjoying the glory of the Manhattan skyline, which makes it another great place for having a NYC night tour.
These are some of the activities that you can practice there:
PIER 1. has lawns and an extraordinary view of Manhattan.
PIER 2. offers a basketball court, a gym, a rollerblading area, play areas and kayaking.
PIER 3. has magnificent green spaces.
PIER 4. has a beautiful sandy beach.
PIER 5. has sports fields, fishing, playground and hibachi-style barbecue.
PIER 6. There you will find extensive play areas with sand, water, swings and climbing, besides the ferry to Governors Island.
Hours: 6:00 am to 1:00 am
Admission: Free
Address: 334 Furman St, Brooklyn, NY 11201
How to get there:
Bus: B25 and B63
Metro: lines A, C, 2, 3, 4, 5, F and R.
The water taxi: Operates seasonally.
Ferri: East River Ferry
5. Prospect Park
Located in the heart of Brooklyn, Prospect Park is a public park with more than 494 acres. This park is artistically recognized for being a work of engineering and landscaping planned by the same creators of Central Park, Frederick Law Olmsted and Calvert Vaux.
It offers activities for each member of the family, as its different locations provide fun for adults and children:
There is a zoo run by the Wildlife Conservation Society.
Every summer they organize a performing arts festival, the largest in NYC.
It has sports facilities including 7 baseball fields in the Long Meadow, a tennis center, basketball courts, soccer fields and the New York Petanque Club at the Parade Ground where you can take lessons with experienced players and even compete in tennis tournaments, not only at the Parade Ground but also at Bryant Park.
The Boathouse, home to Brooklyn's finest events with stunning natural surroundings and one of the city's first buildings to be declared a heritage site.
If you love to fish, this park has the largest lake in New York and is one of the most popular fishing spots.
And to top it off, there's the Society of Friends private cemetery on Quaker Hill, near the ball courts, where actor Montgomery Clift was buried.
Hours: From 5:00 am to 1:00 am
Admission: Free
Address: Brooklyn, New York 11225
How to get there:
Bus: lines B12, Parkside Avenue / Ocean Avenue stop; B16, several stops on Caton Avenue; B68, Coney Island Ave / Park or Coney Island Ave / Caton PL or Coney Island Ave / Caton Ave stop.
Subway: lines F and G, station 15 St- Prospect Park; Line Q, Parkside Station; lines B, Q; S, Prospect Park Station
6. Bryant Park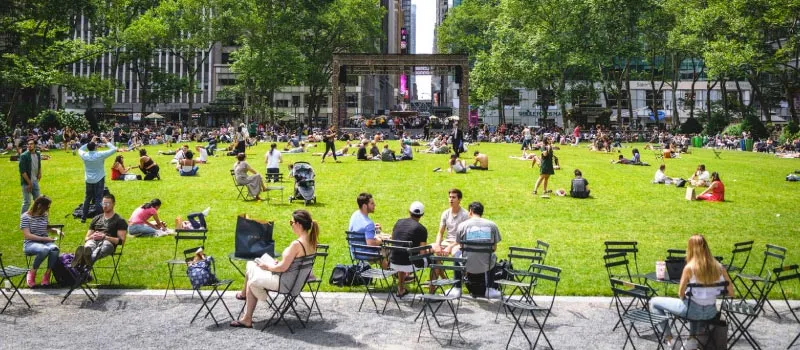 Located in the heart of Manhattan, Bryant Park is one of the city's liveliest summer spots with plenty of free activities throughout the day and throughout the season.
This small and cozy park is an obligatory step that you should not skip from your plans since it is ideal for a break in the middle of the city tour, because there you can access free WI-FI while enjoying a coffee or a snack in some of its benches. Additionally, it is a place where popular events are held throughout the year, such as the famous open-air cinema in summer, which in winter becomes a large ice rink.
Other activities that you can do there are:
YOGA: Yoga fans should visit the park on Tuesday mornings (at 10am) or Thursday nights (at 6pm) to attend the free classes, alternatively held on the lawn or on the upper deck .
PETANQUE: There is an exclusive petanque area where, during the summer, you can meet the people of "La Boule Newyorkaise", a club that promotes this sport (for free). Also, with just half an hour you can get to know a bit of French culture… Ahh! and don't miss out on trying the classic drink, Pastis.
MOVIE MONDAY: In the summer months, Bryant Park and its sponsors set up a large screen on the west side of the lawn where on Mondays you can enjoy a movie that will start at about 8:30 pm, or later, make sure to arrive before. You can take advantage and have a picnic joined by a refreshing drink and delicious sandwiches, they will make an ideal time to enjoy with friends or family.
SHAKESPEARE: Central Park is not the only place in New York where you can see a Shakespeare play outdoors, as Bryant Park has its own stage. Shakespeare in Bryant Park brings several plays throughout the summer!
CAROUSEL: If you travel with children, the carousel should be on your agenda, it is located on the south side of the park.
READ A BOOK: This is one of the quietest spaces in Manhattan so ending the day here with a book is not a bad idea. Did you forget your book? No problem, the park has some from the library available to you.
Hours: From 7:00 am to 7:00 pm in winter | From 7:00 am to 11:00 pm in summer
Admission: Free
Address: New York, 10018 USA From south to north, between 40th and 42nd streets. From east to west, between 5th and 6th avenues.
How to get:
Subway: The closest ones are 42nd St – Bryant Park (B, D, F, M) and 5th Ave (7)
As soon as you arrive in New York, separate a space in your agenda to visit one of these parks, it will be a relaxing and pleasant experience that you may experience and enjoy. To learn a little more about the city, do not hesitate to take a tour of NYC, as it is the most practical way to see each of the districts and the multiculturalism that they represent up close. Do not forget that you could also take a tour of contrasts, a Night Tour around New York, or a Dyker Heights Christmas Lights Tour at the end of the year.
Make your bag and enjoy one of the most particular experiences in the USA. ¡Have fun!