Washington DC is considered as a purely political and cultural destination, however several times a year there are events , fairs and festivities that you cannot miss.
If you are planning to tour this city or you just want to take a Day Trip to Washington DC from New York, then we will share you the dates on which the most popular festivals in Washington are held. So, if you have the opportunity to attend, you will not regret any of these events.
1. Independence Day, July 4th
July 4th is an important date for the entire nation, but if your days of tourism fall around this date, that is excellent news, as this is one of the most memorable holidays for the US capital and one of the most important festivals in Washington.
Every year, Washington DC puts on its best look and creates a great parade for children and adults to celebrate Independence Day in style, as a revelry is programmed through Constitution Avenue, touring the most significant monuments of the city, all the way to the Lincoln Memorial. At nightfall a fireworks show is created with the sole purpose of commemorating each of the heroes who fought in the battle for independence.
2. Memorial Day, May 31st
Every May 31st a tribute is paid to veterans who fought in the nation's battles and those who fell in war, this makes it one of the most memorable days in the entire country, so annually ceremonies and activities are offered focused on honoring hundreds of men and women who were part of its military forces. As on 4th of July, on Memorial Day an organized parade crosses Constitution Avenue and ends with a tribute concert where dozens of musical bands and families of the honorees congregate.
3. National Cherry Blossom Festival
More than 100 years ago, Japan gave the United States about 3,000 cherry trees that were arranged to decorate the streets of the District of Columbia, each year in spring, for 15 days, a festival is held in honor of this present, so joined by music, parades, dances and fireworks shows, the population settles down to see how a bright pink color takes over the streets and gives life to the city.
4. Jazz Festival, June
In June, year after year, the most important jazz festival in the city is celebrated. It brings together about 125 , local and international, musicians in different meeting points, making it the largest musical event in Washington DC and one of the most important in the country.
5. Capital Pride
Civil rights and gender diversity are celebrated for a week with events that bring together almost 300 thousand people, from all over the world, on the streets of the North American main city. It is an event full of folklore, parades and a street festival organized with the support of entities that are in favor of this cause. Here you can enjoy 3 stages, one for shows and concerts, another to enjoy a picnic and drinks, and another with food trucks and a more familiar atmosphere. The stage surrounds the Capitol, making it participate in the different artistic representations and in the presentations of politicians and activists.
6. Smithsonian Folklife Festival, June
The last weekend of June on the National Mall is the Smithsonian Folklife Festival, a free event in which products and activities from different regions of the world are presented. This is a completely cultural fair designed to share the diversity of customs of each country.
7. ¿Where To Next? Race DC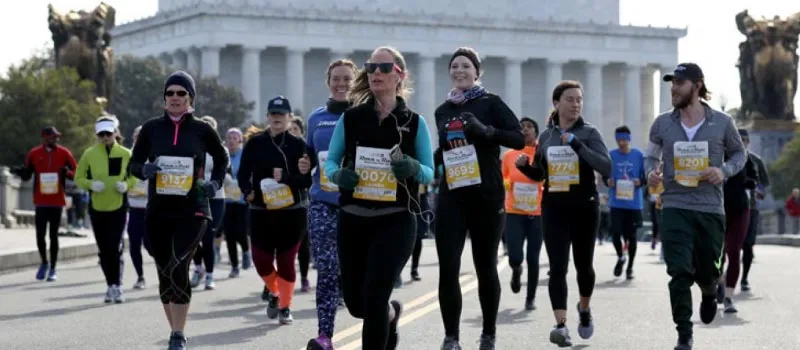 Once a year an ideal cultural and recreational activity is held for sports lovers and culture consumers, since, through an athletic race; it seeks to encourage participants to get to know the best locations in Washington DC; with a route that crosses through the most important cultural and historical monuments while culminating challenges in areas that have great panoramic views. "It's a new way of running, a new way of traveling and a new way of experiencing" this is the motto of the event and we admit that it serves to get to know the capital in an interactive way. If you take a Washington D.C. Day Tour From New York and, besides, you like running, this is still a good plan to learn while you exercise.
8. Date Night In DC, February
Valentine's Day is a date in which hundreds of couples come out to celebrate their love. Since the main city is not the exception, during this date some special sales appear helping you to have a pleasant night. The DC date night plan includes discounts on hotels, restaurants, attractions and bars, places always ready to make this romantic night the best.
9. Book Festival At The Library Of Congress
The book festival is a space designed to offer and encourage the habit of reading in adults and children. Each year it invites more than 100 writers from different literary fields and allows visitors to witness and share with their favorite authors, either listening to one of their works, signing autographs or even taking a picture with them.
10. Passport DC, May
Every May a trip around the world is organized for 31days. Where, 70 embassies and more than 50 cultural institutions allow access to the public, of all ages, to learn more about the culture of each participating country. With the support of events, exhibitions and workshops for all audiences, they manage to share something of their customs.
11. International Equine Show, October
For a week, Washington DC recreates an equestrian scene presenting world-class horses and riders. In this event, the public is amazed by the jumps and acrobatics that each pair – rider and horse – has prepared for their audience. Along with the horseback riding shows there are musical festivals, terrier races, equine competitions, bull riding and freestyle equine dancing. If you are a horse lover, you will love this plan.
12. H Street Festival, September
This is a festival arranged purely for fun. It takes place on H Street, an area known for bars and nightclubs that perform stage arts for the entire day.
If one of your plans is to stay one or more nights in Washington DC, we recommend you to experience one of these events, it will be a day not to forget and it will allow you to celebrate with the locals. Are you up for it?