Washington DC is a world-class metropolis that has all the grandeur needed to be the capital of the United States, being the seat of the three government branches and the federal district of the nation.
The city has an incomparable number of free public museums that you can visit, such as the Smithsonian or the Air and Space Museum. It is also the home of the most beloved monuments by tourists and locals, such as the Washington Monument or the famous Lincoln Memorial.
Moreover, visits to the National Mall, passing through the Capitol, the Washington Monument, the White House and the Lincoln Memorial, are required by anyone who gets to know this city, since they are world famous monuments and recognized as pillars of one of the largest nations in the world.
Washington DC is not only a political and cultural center of the country, the city has everything that tourists would want to experience and know, especially if they take a Day Trip to Washington DC from New York. In fact, there you'll find plenty of options for shopping, dining, or nightlife, with places suitable for all tastes and budgets. The kind of places that you would expect to find in the United States capital.
Now, we are convinced that you have already made a decision regarding your visit to Washington DC, and surely you already have a list of things to do and places to visit, but have you taken the time to review the safety aspects? Regardless of the city or country you visit, it is always necessary to take a few minutes to learn about the safety of the place, as well as its customs and cultural aspects, so you will avoid having a bad time due to misinformation.
So, How Safe Is Washington DC?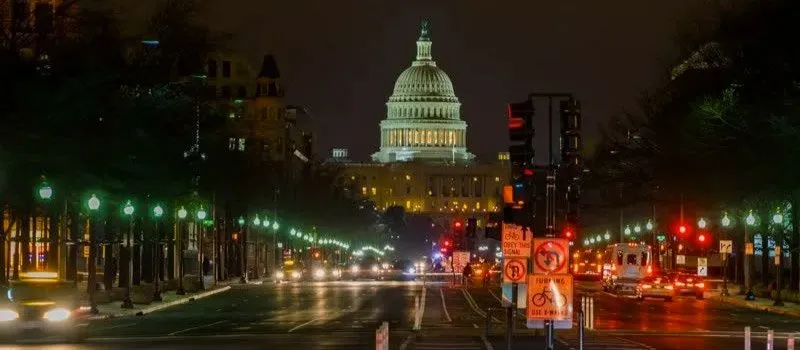 In the 1990s, Washington was known as the "murder capital" with an extremely high number of homicides per year. However, these numbers have dramatically dropped, and as a tourist you are unlikely to experience anything similar to a violent crime.
In general, in the United States, random killings are not frequent and, in Washington DC, these types of violent crimes are generally limited to certain dangerous neighborhoods which are often related to personal account settlements.
Even so, all tourists should take the usual precautionary measures, just as they would in any other city or even in their own hometown or residence. With this we refer to avoiding walking through dark alleys in any area or having any interaction with strangers.
As for property theft crimes, they are problems in neighborhoods where nightlife is common, for example in the areas near Shaw, Adams Morgan, Near Northeast and the areas around the Gallery Place-Chinatown metro station. Although, we must mention that in some of these neighborhoods or streets you can also find places of interest, so if you must go through any of these locations try to walk carefully, be accompanied, and always watch and keep your belongings in sight.
Keep in mind not to use your mobile phone in an unsuspecting way, as you would in any other place, since they are the objects that are most commonly involved in theft, especially in subway stations and on trains.
To summarize some important information, here is some useful data if you are going to make a Day trip to DC from NYC or from any other city.
General risk: Medium
Washington DC is a generally safe city. With a rating of 69%, the US is ranked 51st out of 162 in the ranking of the safest and most dangerous countries in the world, despite having some robbery-prone areas.
Theft risk: Medium
There are risks related to so-called "pickpockets" in the touristy areas of DC and in some places of the North Central area. Be very attentive if you travel in the Metro, this is one of the most common places where thefts of mobile phones and wallets occur. A few simple precautions will minimize your chances of being robbed.
Assault risk: Medium
Tourists who regularly visit Washington DC generally have good experiences, but be aware that in some areas of the city there is a high risk of being mugged, especially in dimly lit areas, usually at the exit or near bars. Don't go alone, especially at night.
Transport and risk in taxis: Low
Transport in general and especially taxis are usually very safe.
Nature disaster risk: Low
There are no natural hazards present in Washington, although in some rare cases, heavy blizzards have occurred, especially during winter and fall.
Terrorism risk: Low
Terrorist attacks in the city of Washington have been very rare, since by being the capital of the United States it has a very high level of security, especially in airports. In any case, being the political and governmental capital of the country, it is usual for protests and public disturbances to occur.
Useful information: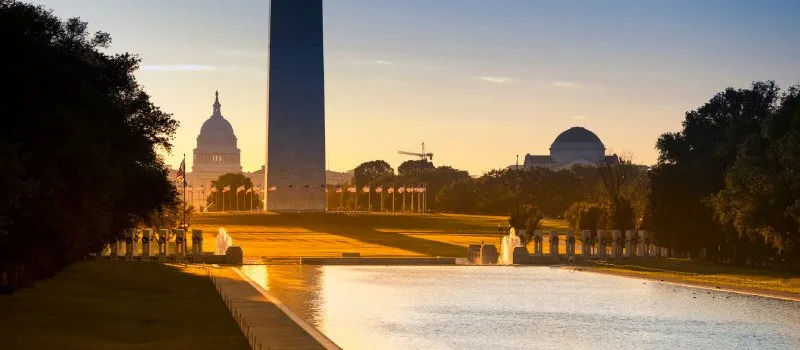 VISA:
The United States is famous for its tough policy to acquire a visa, even as a tourist, not to mention a resident visa. US embassies generally request interviews before granting tourist visas and they generally have to pay up to $ 160 USD to obtain the document. If you are not sure about the status of your visa, visit the embassy of the country to which you wish to travel beforehand, there they will inform you whether or not you need a visa according to your nationality and / or residence.
Currency:
The US dollar is the official currency in Washington DC and in the rest of the country. Credit and debit cards are accepted almost everywhere, and ATMs are widely available. Prices vary, but budget for at least $ 100 to spend per day.
Climate:
The weather in Washington DC is very pleasant, mainly during the spring and fall. The northern subtropical climate produces cool breezes and moderate temperatures, so in many places you can see the famous cherry blossoms grow.
Winter temperatures are also relatively mild, with occasional snowfall. But summer is not the best time to travel, as it is very hot and with a high level of humidity.
Airports:
Dulles International Airport is located in Loudoun and Fairfax counties, Virginia, 42 km west of downtown Washington DC.
Travel insurance:
As in any other place, we recommend you to obtain travel insurance as it covers, not only the costs of medical insurance, but also in case of theft or loss of valuables.
Now that you know a few aspects that you should take into account when visiting Washington DC, grab your bags and join us in the experience of touring this beautiful city. Take a Washington D.C. one day tour from New York, you will surely love it.