The capital of the world will always be that corner of the map that we point out as a holiday, business, culture, art, knowledge and, of course, the ideal rest destination; therefore, going on tour in New York will always be that photo album that you can't miss on any social media profile, photo gallery or library at home, but, have you ever imagined everything you can do in this city during any time of the year, even if we talk about winter?, well, let's start to know some plans that New York has for each season of the year
Let's get ready to meet all the beautiful things and places that we can see and enjoy during a tour around Dyker heights, a Brooklyn neighborhood that dresses in bright lights and that, night by night, from December 1 to January 6, delights us with all the fantasy and charm of Christmas.
Let's start with summer in New York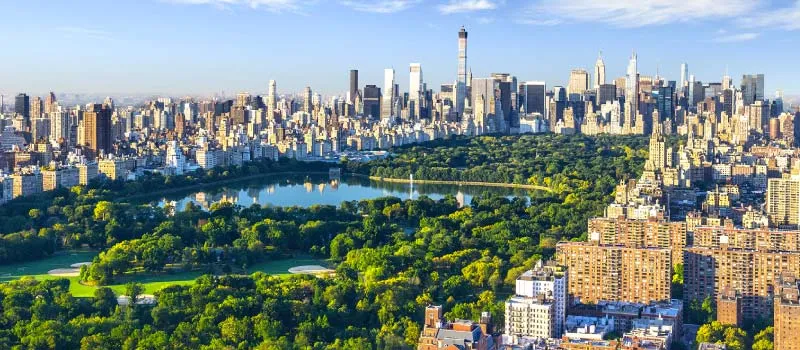 The summer season is known as the season with the greatest influx of tourists, plans are increased, as well as costs, and opportunities to enjoy outdoor spaces are greater since you can enjoy parks, beaches or events. Definitely, during the summer there are a huge amount of plans to make and that you may not miss.
As for parks, Central Park makes you feel immersed in a number of movies and stories that take over every corner of this place; then you can enjoy parks like the High Line Park, located on an abandoned road, or Little Island, New York's newest that floats over the Hudson River. Or, if you prefer, you can visit the Brooklyn Bridge Park or the Four Freedoms to hang out and enjoy an afternoon picnic with family and friends.
Here we could stay talking for hours about the large number of parks that New York has, but we know that when you travel you want to know a little about everything, so why not talking about something that, with no doubt, all of us keep waiting for, at the vacation and summer time, the beaches, another attraction that for this season turns out to be so desired.
New York's urban beaches are so unique and spectacular that it's seriously worth going, so cheer up and get to know Coney Island, I guarantee you won't regret it. In fact, if you have some time left, take advantage and visit Rockaway Beach in Queens, as well.
But this does not end here, the outdoor events are fabulous, theater, philharmonic concerts or even being in the week of the gay parade is something that is definitely worth witnessing.
How's the city during the spring?
Nothing to envy the summer, at this time parades, flea markets, concerts, exhibitions and some commemorative festivities are activated. The flea markets are located in Brooklyn, on weekends, where you can enjoy delicious cuisine and, on some occasions, garage sales where you will fall in love with everything.
Remember to pass by the Botanical Garden of New York, there they organize a show of orchids loaded with colors and a unique visual experience; obviously you can not forget the Saint Patrick's parade, if you already enjoy it in your hometown why would you miss the opportunity to live it in this main city that celebrates turning everything green and with a great parade.
The musicals on Broadway, the Greek Independence Day parade, the National Beer Day or visiting the International Motor Show are other activities that will ultimately lead you to plan a tour of New York that will be tattooed on your memory.
What can you find in New York during autumn?
During this season, the pace of life drops a little as it is that time of year where you have to take the time to appreciate the wonders of nature, with those particular images of autumn, where the trees and the sunset become the protagonists of New York afternoons. But it's also the perfect excuse to take a tour of New York's shopping malls and go shopping to renovate the closet and make way for winter.
In September you will find several celebrations such as Labor day, which takes place on the first Monday in the month and symbolizes the end of summer and the entrance to autumn. Next to this celebration you will find cafes full of pumpkin spice-flavored cakes, symbolizing the beginning of Halloween.
But, you can also participate in more heartfelt celebrations such as the 11-S or, if you prefer to go on the art side, you will have the opportunity to enjoy the film festival or the Little Italy festival.
Here the New York tour that you have carefully planned announces the long-awaited visit to Dyker Heights.
Why are we talking so much about winter in New York?
Because it is the most fulfilling season, but it is also full of joy in family and love, so at this moment you can enjoy special and fantastic events, full of experiences that only Christmas and winter can offer you.
Do you remember that earlier we talked about Central Park and all its beauty during summer? Well, now imagine it covered in snow. In winter, snow becomes the protagonist of the best postcards in the world and of some of the best photos you can take anywhere.
How about a trip to the museum or the cinema and ending the night with an authentic New York hot chocolate? This can be the final touch you need after enjoying your night out.
But, winter is also the perfect opportunity to enjoy ice skating at the Rockefeller Center, to enjoy a show on Broadway or, take advantage and make the favorite plan of Christmas lovers, a tour of Dyker Heights that is one of the most beautiful of the year. Enjoy the lights, the Christmas arrangements, food and much more that you can find in the south of Brooklyn, in December and January.
By the way, if you need any help planning your tour to Dyker Heights christmas lights tour, let us know, we are more than ready to advise you and give you a complete guide of one of the most visited neighborhoods of New York during Christmas.