Taking an Niagara Falls one day tour from New York is an incredible plan that amazes young and old, since the immensity of the waterfall usually leaves everyone with their mouths open. But, if you are going to spend family vacations with children, and among your plans is to visit this destination, then we are going to recommend some activities that the little ones will love and that will help you to learn more about the area around Niagara Falls.
It is clear that according to the season in which you travel you will find different activities, because due to the weather some excursions are closed but other events are inaugurated so in any month of the year you will find something to do, these are some of them:
1. Clifton Hill
When we talk about Clifton Hill we refer to one of the most visited streets on the Canadian side; to give you an idea, those who have taken a NYC to Niagara Falls tour, or from another city in the United States, have compared Clifton Hill to a small version of Las Vegas but for children, although it also turns out to be very fun for grown ups.
This touristic promenade is full of museums, rides, hotels, gift shops and restaurants that amuse themselves in abundance, so much so that it has been called "The Street of Fun".
Some of the places you can visit there are:
The Guinness Record museum
The Ferris Wheel
The Louis Tussaud's wax museum
The Movieland wax museum
The Mini Golf Dinosaur Park
The Frankenstein's house
The Ghost Blasters – House of Terror
XD Theater
Brick City
Ripley's believe or not
2. Bird Kingdom
Bird Kingdom is the largest indoor aviary in the world, so much so that the birds that live there have ample space for free flight. What's more, joined by hundreds of tropical birds you can explore trails within a tropical jungle with a high chance of encountering several of these friendly animals head-on.
Visiting the aviary is perfect for people of all ages, since meeting bats or owls while walking through the Night Jungle is not something you do every day. On the other hand, in Lorikeet Landing you can interact with parrots and feed them, something that becomes really fun and that disconnects you from the outside world, reconnecting with nature.
The park is located just a 5 minute walk from Niagara Falls and is open year round. If you travel early, you can plan a group visit to learn a bit of natural history or interact with the birds and other animal species found there.
NOTE: As it is the "home" of dozens of animal species, you must respect it, so if you come across any of the birds or other animals that reside there, avoid causing them any harm or leaving garbage around.
3. Butterfly Conservatory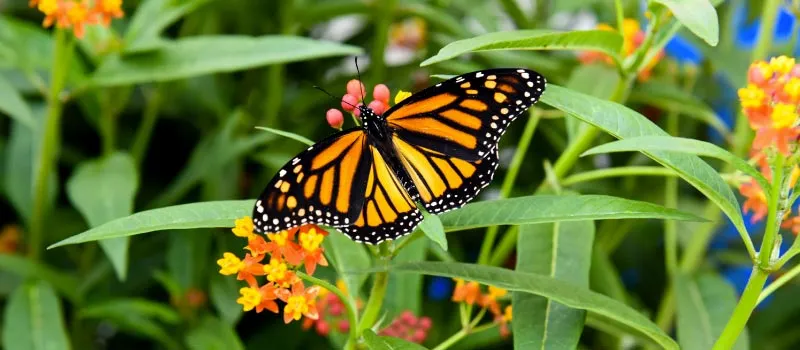 On the Canadian side, not far from the falls, in the Botanical Garden of Niagara Parks there is a space that houses more than 2,000 butterflies of 50 different species. They decorate the place, fill it with color and harmony, as it seems to be floating in the air.
It does not matter if you are a butterfly lover or if you are just curious to visit the place, here you must make a stop to contemplate part of nature since the main objective of the conservatory is to educate and entertain those who visit it, this way all can learn about butterfly habitat and its life cycle.
Most of the lepidoptera that are part of the conservatory, 60%, have come from El Salvador, Costa Rica and the Philippines, but the remaining 40% are raised in a private greenhouse that is part of the Botanical Garden.
The space is fully air-conditioned allowing them to keep their doors open to the public for 364 days of the year, the only day they are not open is December 25.
TO KNOW: If you want the butterflies to interact with you, remember to wear a little cologne and wear bright clothes, also try to walk slowly so as not to scare them away. You'll love it!
4. Magic Show
In the vicinity of Niagara Falls you can enjoy, together with your family, magic shows that captivate.
One of them is the Mind Trix Show by Edward Stone, an event in which magic is combined with psychological illusions, astonishing the entire audience for 75 minutes. It is not a typical magic show, it is something out of the ordinary where you will be surrounded by illusion and deception while Edward plays and interacts with the public.
Another magic show that you can enjoy is Wild Magic, a show with typical Las Vegas style where illusions and playing with exotic animals will take your breath away. In this case, it is Greg Frewin who is in charge of directing the show in a theater set up for 650 people.
5. White Water Walk
Walk along the boardwalk through one of the most impressive stretches of water in the world, where the water is wild and crystal-clear in color, drawing the attention of hundreds of tourists every year. On the White Water walk you can appreciate how the narrow, but deep, Great Niagara Gorge was created, an area where trillions of gallons of water take relentless speed in route to the falls creating an impressive sight in the eyes of anyone.
In this area you will be able to witness the power of the rapids that travels at 30 mph and relax with the apparent calm provided by the roar of the water, creating an ideal environment for a quality ride and out of the routine.
The White Water promenade is located just 4 kilometers from the falls, to the north, once you have reached the initial station you must go down 70 meters in an elevator and then walk through a tunnel of just over 70 meters in length. The entire promenade is 300 meters long and has two stairs that lead to observation platforms on the river's edge.
IMPORTANT: The attraction is only open from April to November, but the exact opening dates are determined by the weather, so it is best to inform yourself through their social networks or their website to ensure your trip. Access hours are from 11 am to 6 pm, depending on the day.
6. Rainbow Bridge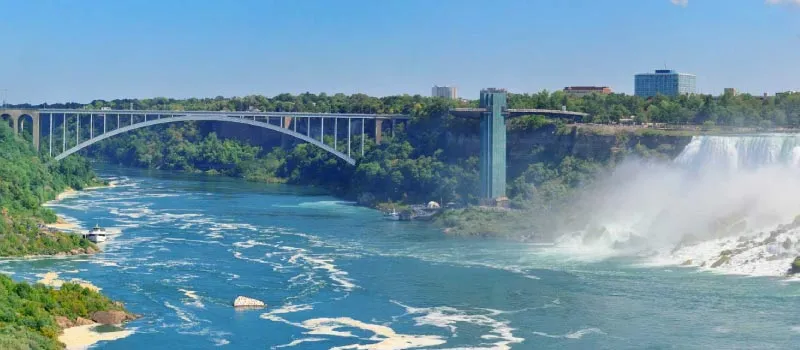 The Rainbow Bridge is the bridge that crosses into the two countries over the falls, this makes it one of the best observation points of both Niagara Falls and the river, so going through there will turn out to be incredible. You can cross the bridge on foot, by bicycle or by car, any day of the year, 24 hours a day, however there you must pay a toll that costs about US $4 if you go by car (round trip) and US $1 for pedestrians.
The bridge was built in 1940 and its inauguration was the following year. It measures 61.5 meters, above the water level, and is almost 300 meters long. The current of water that passes under the platform runs at approximately 30 mph, and its depth exceeds 50 meters.
Before the Rainbow Bridge there was the HoneyMoon Bridge, but it was destroyed in January of 1938 as a result of the damage caused by the winter ice, so as soon as they built the new bridge they left the abutments 15 meters from the water to avoid further accidents.
7. Skylon Tower
Among the many attractions that are available around the falls, this is one that you cannot miss. For example, if you take a day Niagara Falls day trip from New York, without a doubt you should visit the Skylon tower, because the view from there is unique.
In a journey of only 52 seconds you can climb up to 230 meters high to see the magnificence of the falls, this initial tour is done in an elevator with glass walls known as the "Yellow Bug", on this journey you can appreciate how the falls are decreasing in size but you also notice their immensity, and that is when you realize that climbing the Skylon tower has been an excellent idea.
The tower has internal and external observation decks from where you not only see Niagara Falls but also appreciate the Great Gorge, the urban landscape, the Niagara district and the panoramic view of Buffalo and Toronto, getting to see even more than 6,200 miles from Canada and the United States.
At night it is an impressive show, because when the daylight goes away, the lights of the city and those of the other surrounding areas come on, leaving nothing but the sound of water and a remarkable sense of calm. At the end of the year you can enjoy a light show and a fireworks show, it is simply beautiful!
NOTE: The tower has a revolving restaurant, if you book your dinner in that place you can go up to the observation deck completely free.
8. Fallsview Indoor Waterpark
If you are going to spend more than a day sightseeing in Niagara, you can visit the Fallsview Water Park and Resort, just 2 minutes away from the falls. It is a space of more than 2 acres that includes all kinds of games and fun areas for children and adults.
The park features giant slides of 20-foot-tall, a wave pool, a 1,000-gallon dump bucket, a deck and outdoor pool for some summer sun, a dipping bowl, 2 large hot tubs – just for adults – and an exclusive area for children. In addition, there is a game house on the jungle beach and an excellent quality restaurant called "The Beach Club".
9. Falls Incline Railway
This is a fast and convenient way of transportation between the Fallsview tourist area and the Table Rock Center. It is open all year round and it is air conditioned. It also provides a unique view of the Horseshoe Falls as you ascend or descend.
NOTE: It operates from 9 am to 9 pm.
10. Niagara's Fury
Niagara's Fury is an attraction that you find in the Table Rock Center, it is a 4D show that offers a multisensory experience to visitors, especially enchanting children.
The show begins with an 8-minute video that shows a bit of the history of the falls with the help of animated characters, who explain how the Ice Age led to the natural formation of this geographical spectacle. Afterwards, visitors are taken to a 360-degree theater where you will experience different audio, video and movement effects that will awaken your senses. The idea is that you experience, first-hand, the formation of the falls as it happened some 10,000 years ago.
This simulation lasts about 6 minutes, visitors will have to stand on a 10 meter wide platform and while you are there you will begin to feel how the temperature begins to drop, water falls from everywhere and little by little it begins to snow. Then the platform tilts and moves strongly simulating the tectonic fault that led to the creation of the falls, while you feel the changes in the environment the screens are showing each event so that you get 100% involved with what is happening.
Next to the platform there are support bars to help you in case you lose your balance and, in addition, they provide you with ponchos to save your clothes from the constant fall of water, it is actually a totally interactive experience.
11. Marineland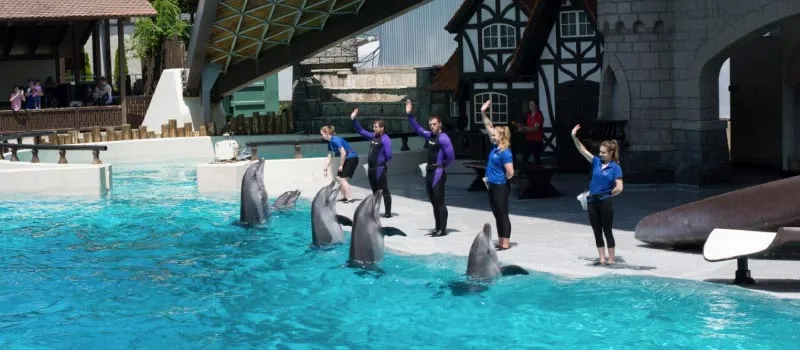 In Marineland you can share with aquatic and terrestrial mammals, which will invite you to promote the protection of animal life and inspire new generations. It is a perfect place to share with the kids, as it offers you interactive activities that will help you rethink about the current state of the planet and where we will arrive if we do not make a change. The areas that comprise Marineland are:
Sea Mammals
With the help of the marine mammals housed in Marineland, they seek to encourage young and old in the protection of the oceans and all the animals that live there, through education, conservation and research, they promote the concern of humans towards different Marine species. The place has an "ocean" that you can see from the outside and inside, thanks to a glass tunnel that allows you to feel as if you were submerged at the bottom of the sea, while beautiful and gigantic beluga whales join you.
Land mammals
In this area you will be able to appreciate the representative animals of Canada, getting closer to the wildlife and the national culture. Here you can share, in a safe and familiar way, with black bears, bison, elk, red deer and fallow deer, which will allow you to appreciate and learn about each of these emblematic animals of this North American country.
In most exhibits of terrestrial animals they will allow you to interact with the different species, but keep in mind that you must be very aware of children to avoid accidents.
Polar splash
In addition to the animal exhibits, Marineland has a water park that, besides offering fun, will keep you cool every summer day. Splash with your children amid polar bears, dolphins, walruses, sea lions, caves and icebergs, enjoy 10 slides for children and don't miss their pools.
Picnic
In Marineland there are many open spaces equipped with tables in the shade so you can have picnics with the family, it is a safe, fun and outdoor experience, perfect for a half day break.
12. Firemen's Park
If you prefer a more natural plan, we recommend you to visit the Firemen Park, an area of ​​more than 123 acres located at the north of the falls. If you take an Ontario or Niagara Falls bus Tour from NYC and want to get away from the crowds a bit, this is a beautiful place to visit, as it has areas to share with the family while enjoying the outdoors, there you can find:
Basketball court
Dog park
Baseball diamond
Walking trails
Children's park
13. Waves Indoor Waterpark
This is another water park perfect to enjoy with the family, located just 3 miles from the falls. It offers an area of more than 7,000 square meters in which it promises a lot of fun for the whole family thanks to its wave pool, slides up to 3 stories high, children's pool and dump bucket. In addition, the park has a sliding glass roof that helps you enjoy the summer heat as if you were in an outdoor pool, while during the winter it remains closed and the place is fully heated.
For all events, it is essential that children under 15 years of age enter with a responsible adult. In some of them, children under 3 years old can enter for free.
Important Note:
Remember that many of these plans have modified their dynamics as a result of the current health situation that the planet is going through, be sure to check the website or social networks of each place to visit so that you know the possible modifications. Your health is the priority!
Whether you take an Niagara Falls one day tour from New York or Ontario, do not miss the opportunity to visit some of the tourist locations that surround the falls, as they will complement your trip and allow you to open your mind while you disconnect from your routine and you get attached to nature.